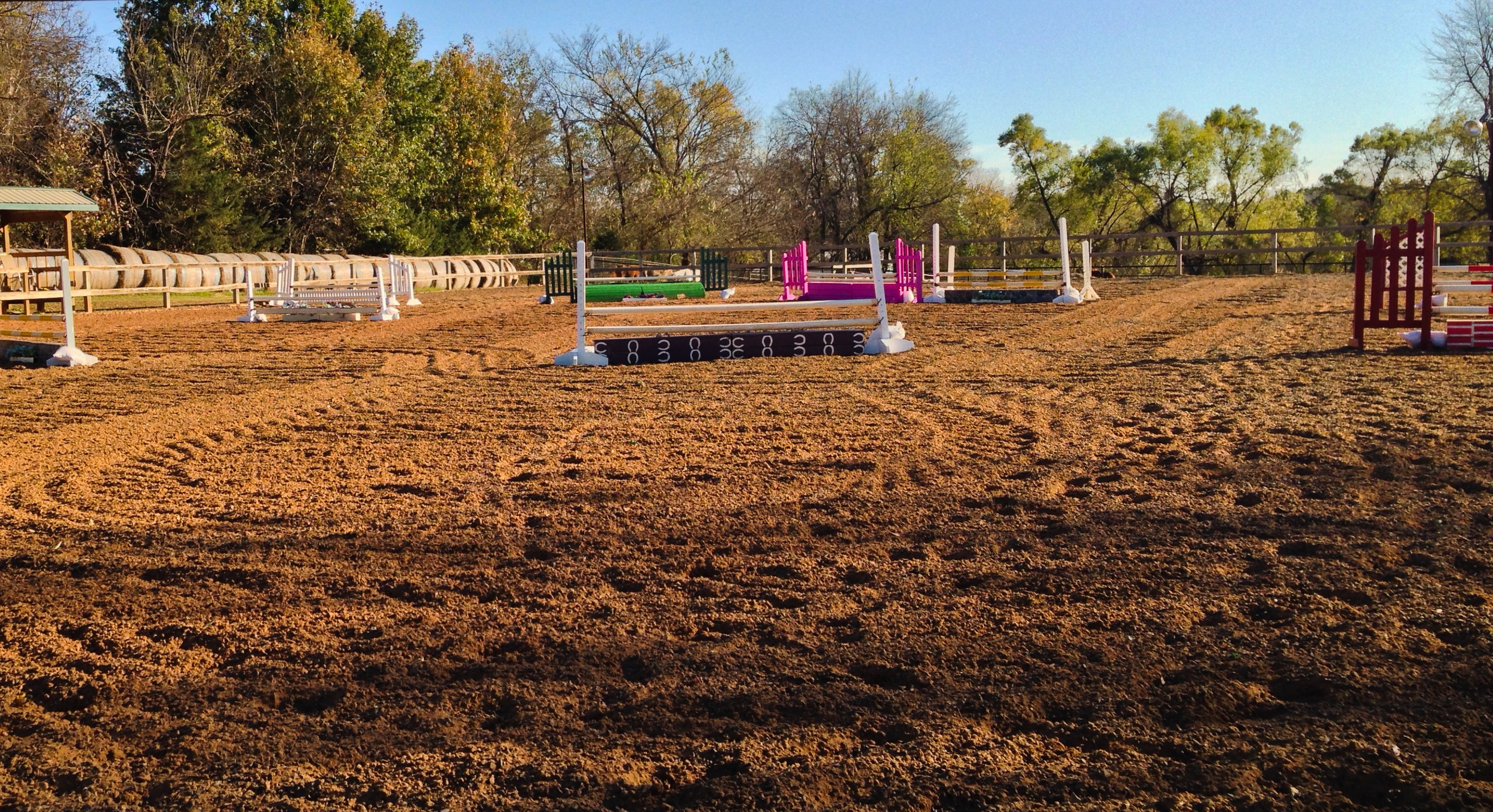 SaddleBack's Facilities
Time, thought, and hard work went into SaddleBack Equestrian's design and construction. As a result, it is tailored to the individual and their horse whether for pleasure or performance, or lessoning on one of their well-trained school horses. The highest attention was paid to create a friendly environment with an emphasis on safety, functionality and enjoyment for both horse and rider.
SaddleBack's amenities include:
Priefert Stalls with:

Both Aisle & Feed Windows

1" Rubber Mats & Top Quality Shavings

2 Water Buckets (so intake can be monitored)

Feed Bucket & Salt Brick

Stall Lighting, Fans, Receptacles

With or without closable Rear Bay Windows

Maintained, Groomed, and Lighted Riding Arenas:

120' X 200' Jumping / Riding Arena with Surefoot Equestrian Rubber footing & Full Jump Course

66' X 132' (20 X 40 meter) All-weather Dressage / Riding arena with Dressage Letters

66' diameter Working Round Pen

Large All-Weather Turnouts featuring:

Safe, High Quality V-mesh w/ coated wire Fencing

Over 5' tall with pipe posts and top rails

Lessons, Training, Camps and Clinics:

Safe & Experienced School Horses: All Trained in Hunter/Jumper & several in Dressage

Qualified Award-Winning Trainers

24-Hour secured facility with Coded Automatic Gate & Video Surveillance

Owners/Managers live onsite to personally oversee the care of your horse

Spacious personal Tack Lockers for each boarder

Environmentally-Friendly Automatic Fly System in each stall & throughout barn minimizing flies & need for Fly Spray

Wash Racks & Grooming Areas

Restroom Onsite
Ashley Zilmer, Owner/Manager & Trainer, created and designed the layout of SaddleBack Equestrian. Over 30 years ago (1986) she started out riding then boarding her horses at self-care facilities gaining experience and knowledge of these special animals, soon competing in horse shows. She then earned the opportunity to become a working student at a top-notch equestrian farm exchanging exercise rides, barn assistance and show help for lessons to help expand her knowledge on many different and often young horses. Since then, Ashley boarded and trained at both full-care & self-care facilities learning many qualities she might one day want in her own barn (just a dream at the time). Then, in 2007 SaddleBack Equestrian LLC was created -- a facility providing high quality personalized care, lessons and training, while encouraging the joy of riding whether on your horse or on their well-trained school horses. Ashley's top three priorities for SaddleBack have always been: safety, cleanliness, and friendliness.
Ashley's BBA/Bachelor's of Business Degree and successful business experiences in both corporate (advertising company Newport Beach, CA) and non-profit (United States Junior Chamber of Commerce) sectors prior to SaddleBack ensure efficient stable management and quality lesson program services. She's won numerous Championships in Hunter/Jumper and Equitation from 1992-present, including multiple year-end awards and championships, as have her students, school horses, and her trainers' riders on SaddleBack horses. Aside from creating the SaddleBack OnTrack© program for lesson students and the lesson program, she currently oversees all business aspects of SaddleBack, including the care of boarders and their horse's needs. She knows what it takes and is willing to get her hands dirty to make sure the job gets done. Ashley has her own horses stabled at SaddleBack and continues to ride, show and teach as often as she can. Her husband, Mike, and the rest of the barn management are a crucial part of overseeing the condition of the arenas, ensuring immaculate grounds and working on projects to continue to improve the facility for your enjoyment. Call today to schedule your tour of SaddleBack Equestrian.
Testimonials
Hear what some of the clients are saying about SaddleBack Equestrian
I have been at SaddleBack since 2010. I began riding in the beginner camp and am currently jumping and showing in the 2'3" hunters. Showing with everyone at the barn is always a blast; we make it a great time! Ashley and the other instructors are great trainers, incredible teachers, and will do anything they can to help you. They think and teach from a rider's perspective, which helps students learn easier. The people around the barn are very kind and helpful. The lesson horses are absolutely amazing and extremely well trained. I've had a chance to ride almost all of the lesson horses, show a couple of them, and enjoy them all. The facilities and land are unbelievable! The stables are very clean, well kept, and organized. I will be going off to college Fall 2016 and hope to ride on a collegiate equestrian team. I am truly going to miss SaddleBack and everyone at the barn while away at school, but look forward to my visits when home!
–Kinslee